In this article I will analyse BTC based on technical Chart Analysis as of December 2022. This will be a more longterm outlook. I will also try to give insights, what we can expect from the Bitcoin Price in 2023 But I try to always also give short and medium term outlooks. Please be aware that this is only a snapshot of the time beeing and the price prediction can change everytime. Especially in this kind of macro environment and also with recent events that caused huge volatility spikes, like we have seen with the FTX (and Sam Bankman-Fried) scandal. If you want me to analyse any specific cryptocurrency you can always leave a message here or reach out to me on my Twitter account @Crypto_Hub_EU.
My Chart Settings
For conducting my analysis I do not use many indicators on my Charts. I only use 3 Moving Averages. A 20 EMA (Exponential Moving Average), a 50 EMA and a 200 SMA (Simple Moving Average). Moreover I have Volume displayed on my Charts. All other insights come from Support and Resistance as well as the the price action happening at this level. I will write a throughout article about this in the future. Additionally, or this longterm Outlook on the Bitcoin Price, I use Monthly, Weekly and Daily Charts, which means I use Multi-Time Frame Analysis.
Current Macro Environment for Cryptocurrencies
In this section we will take a short look at the overall macroeconomical implications for the market as a whole. While there is a lot of different implications to consider, this will be kept rather short.

In the US and the Eurozone the monetary policy still stays restrictive, which is due to still very high inflation numbers. The inflation risk for 2023 are still at a very high level. However, the Q3 GDP in the United States were surprisingly better than expected.
Most predictions are that inflation has already peaked, which is a possible indications that in 2023 things will get better. However, the implications for markets are always difficult, because it depends on what already is priced in and expected by the markets. If things are getting better in 2023 than currently expected, this could lead to massive rebound in 2023.
While the above is important for all kinds of financial markets, for the cryptomarket there are additional things to consider. The downfall of FTX last month for example is something that has to be closely watched, as this potentially lead to a public loss of confidence in crypto-exchanges and thus the crypto-economy as a whole.
The upcoming months will show if the trust can be restored. While we can not predict with ceratinty what 2023 will be like, one thing is very likely: things are staying very interesting and we will possibly see a lot of action (whether this will be good or bad – time will tell). Read more about it here: Amundi Research.
BTC Technical Analysis and Price Prediction as of 09.12.2022
Bitcoin Monthly Chart Analysis
To directly hop into the action, we can take a look at the monthly Bitcoin chart below.
It is currently trading a price below the 20 EMA and the 50 EMA, which supports the fact that we are still in a downtrend. Also, based on the trendline we can see that it looks more like a bear market at the moment. However, the current December candle managed to open above the upper trendline, this has to be watched with high attention when the candle closes at the end of December. Based on the monthly Support and Resistance lines, the November Candle closed below the Support line at 19877$, which means that this price are became a resistance now. The next support is at a level of 13894$. If the BTC price is able to close the current candle above the resistance line of 19877, this would support a more bullish scenario – where also the current downwards trendline is finally broken and we could see a movement up to the next resistance at 28960$.
Bitcoin Weekly Chart Analysis
On the weekly Chart underneath, we can see a similiar picture as with the monthly analysis before.
The Price of BTC is currently trading below the 20 EMA, the 50 EMA, as well as the 200 MA, which also indicates a rather bearish sentiment. Before the whole market took a hit Bitcoin managed to break out of its bearish trendline, but due to the bad news around FTX, the price fell below it again. Last week it managed to break to the upside again. We are currently trading between the supportline of 16264$, which has been rejected on the weekly chart and on the other side there is the resistance line at 17536$.
A break above this resistance would allow a potential move up to 25289$. The next support on the downside is at around 12448$
Bitcoin Daily Chart Analysis
To finish the analysis we take a look at the daily chart below. The Price of Bitcoin against the USD is also below its 200 MA and its 50 EMA. However, it managed to close above or near its 20 EMA for the last couple of sessions. This indicates that, while a downtrend still seems to be intact, it looses momentum.
Based on the longer term trendlines, we can loose see a bearish trend (see weekly and monthly charts before). But – we can see that BTC formed a double bottom at the resistance zone around ~15500$. After this double bottom, we can see a medium term uptrend forming. At the moment, Bitcoin is sitting at this lower trendline – which could possibly be a good entry point if this uptrend stays intact. The next resistance would be at a price level around 18130$. When this level can be broken, this could mean that a new bullish move is forming on the daily chart. The outlook for 2023 is therefore a difficult one, but if momentum manages to turn bullish, we have extreme potential to the upside.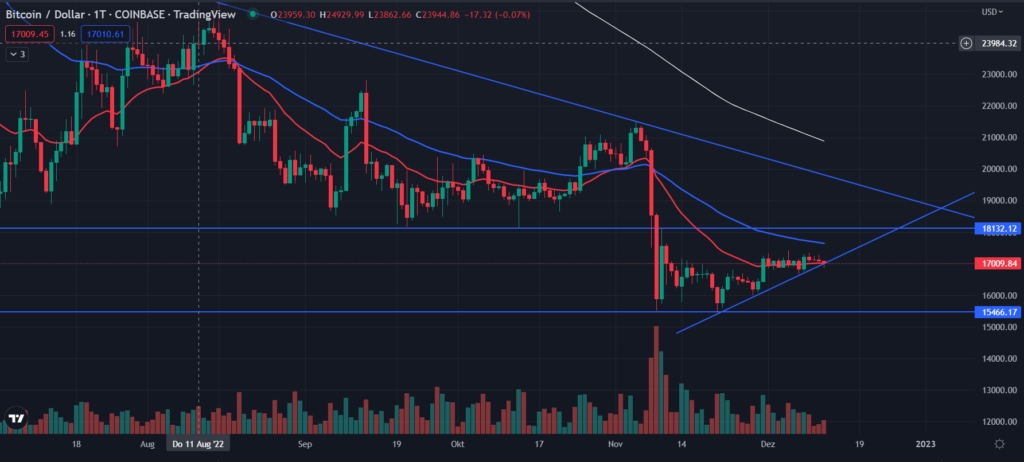 Final thoughts – Outlook for 2023 – High volatility to be expected
While the longer term bearish trend is still active, we could possibly see a new uptrend forming on the medium term. If this trend is persistance, this could also turn the momentum to the bullish side on the longer term trend. However, the general market environment is a difficult one at the moment and unexpected events could turn into fast movements to either side.

I am using Binance for buying and trading Bitcoin, due to its cheap fees and good spread.
If you do not yet have an account with Binance – you can use this link to get 10% back on your fees:
Click here!